Yosemite National Park
Yosemite National Park
's south entrance is only about an hour's drive from Fresno.
No words can
ever
fully describe the beauty and magnificence of Yosemite so we won't try to. Instead we will try to answer some of the common questions asked about Yosemite.
1. What is the Yosemite weather like?
2. When is the best time to visit Yosemite?
3. What is the best way to get to Yosemite?
4. Can we see Yosemite in a day?
5. Here we list our Top Ten Tips for visiting Yosemite National Park.
6. What are the Top 5 Must-Sees at Yosemite National Park?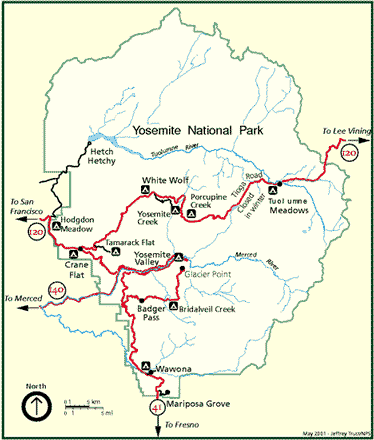 Top 5 Must-Sees at Yosemite National Park
. Sequoias at Mariposa Grove
. View from Glacier Point
. Viewpoint at Tunnel View
. Hike to Vernal Fall
. Yosemite Fall in Spring
From Highway 41 and Herndon Avenue in Fresno, it takes about one hour to get to the Yosemite South Entrance. From there, it is about another 1.5 hours to Yosemite Valley.
Yosemite is "doable" as a day trip from Fresno. We've done this ourselves...start driving at 7am, be at the entrance by approx 8-8.15am and you have the whole day at the park.
But a day trip to Yosemite is really not recommended because there is simply too much to see in Yosemite for it to be a day trip!
One other comment about the drive to Yosemite is that the last 30 mins or so leading up to the south entrance is pretty winding so if you are prone to car sickness, do take Dramamine or Bonine (whichever works better for you).
In the park itself, the roads are winding too in certain areas.
Whether it is your first or tenth trip to Yosemite National Park, the grandeur and beauty of Yosemite is breath-taking and awe-inspiring. Yosemite National Park is a true national treasure.