Sierra National Forest
Sierra National Forest is located about 50 miles northeast of Fresno on the western slope of the central Sierra Nevada. It provides an array of recreational activities such as hiking, biking, boating, camping, backpacking, fishing and winter sports.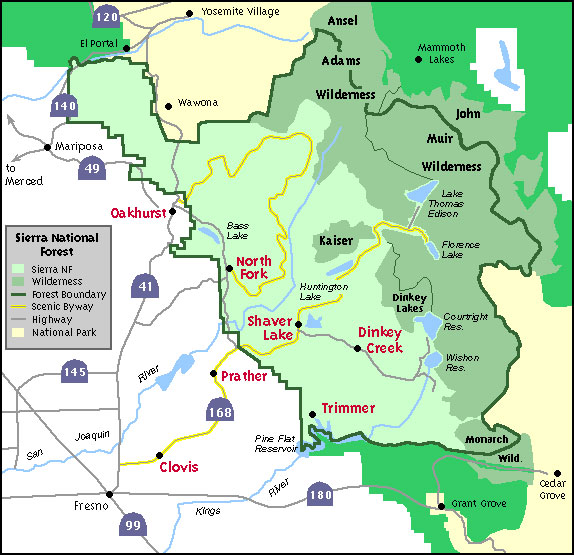 The 3 most popular lakes that are part of the Sierra National Forest are Bass Lake, Shaver Lake and Huntington Lake.
Bass Lake
Bass Lake is about 1.5 hours drive from Fresno. Go north on Highway 41 then east on Road 222. Bass Lake is a popular recreation area especially in the summers. You can camp, hike, boat, fish and picnic here.
Shaver Lake
Shaver Lake is another popular recreation area for boating, camping, picnicking and horseback riding in the summers. In the winter, there are about 50 miles of designated trails for cross-country skiing and snowmobiling. There are several trails are reserved for cross-country skiers only. To get to Shaver Lake, take Highway 168 East from Clovis.
Huntington Lake
At 7000 ft in elevation, this high country lake is popular for sailing, fishing and hiking. In the winters, there are trails for cross-country skiing, snowmobiling and snowshoeing.
Downhill skiing and snowboarding is available at the Sierra Summit Mountain Resort is also at Huntington Lake.
Huntington Lake is located on Highway 168 just 65 miles northeast of Fresno. Here are some general tips for traveling to the Sierra National Forest:
- Always check the current weather and road conditions with the National Weather Service, Caltrans and the Sierra National Forest BEFORE heading into the mountains. This is a good practice even in the summers. Weather conditions can change quickly at higher elevations.
- Always bring chains with you in the winters.
- Have some blankets, water and food in the car in case of road closures and delays.
There are plenty of activities available at the Sierra National Forest year round so go ahead, plan a trip and have fun!
Take me back to Fresno Activities
OR
Take me to the USDA Forest Service's page for Sierra National Forest