Looking for information about Fresno CA?
Visiting the Fresno CA area and need to find hotels? Or maybe you are a local looking for a new restaurant or restaurant reviews?
Relocating here and need information about the real estate market?
If you're looking for schools that provide training for the fastest growing jobs, we have that too. You've come to the right place!
First of all, this website is not an online directory or yellow pages as you'll often find. These pages were created to provide relevant and useful information about the city.
We have included, as much as possible, our own insights, experiences and reviews. We are residents of this city and proud to share all that it has to offer.
These are some of the things that you will find here:
- our favorite Fresno restaurants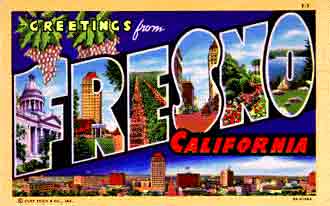 - restaurant reviews
- best bets for hotels
- shopping
- real estate
- school districts
- colleges
- activities
- and more!
Fresno is
centrally located
in the San Joaquin Valley of California. It takes us about 2 ½ hours to drive to the San Francisco Bay Area and approximately 3 hours to get to the Los Angeles area (but as most people know, the LA freeways are constantly busy and it takes about an hour just to get within that city!).
Las Vegas, not on the map below, is about 400 miles southeast and it took us just about 6 hours to drive to Vegas.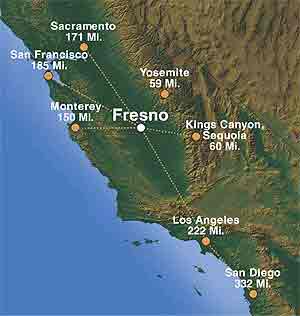 To the west of the city, it is predominantly flat, agriculture farmland – this is after all where many of our California crops like almond, cotton, oranges, tomatoes are grown.
To the east are the majestic Sierra Nevada Mountains. In the winter, the snow-capped mountains provide a gorgeous and surreal-like background for the city.
Some people might not realize that Fresno CA, with a population of approximately 427,000 (2000 census) is the 6th largest city in CA after Los Angeles, San Diego, San Jose, San Francisco and Long Beach. It is a growing metropolis, just beginning to realize its full potential.
This is a very diverse city, a true melting pot of sorts. In the Fresno school district, it has been reported that the students represent a multicultural community of over 76 different languages and cultures!
The ethnic diversity here is definitely reflected in the many cuisines that can be found in Fresno restaurants from Armenian, Basque, El Salvadorian, Indian, Mexican, Spanish to Vietnamese (and many others in between)!
One of Fresno's best-kept secrets is its historical homes. There are currently 28 buildings in the city that are in the National Register of Historical Places.
Two of them are Kearney Mansion and Meux Home which are now museums and are open to the public. Fresno CA also has one official local historic district called the Porter Tract.
The Porter Tract consists of a diverse collection of architectural styles such as Craftsman, Colonial, Spanish and Tudor Revival, Italian Renaissance and Neoclassical.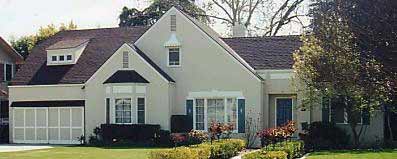 If you enjoy looking at historical homes and different architectural styles, you should definitely check these homes out.
They are located in central Fresno CA with these boundaries - Weldon Avenue to the south, Maroa Avenue to the west, Yale Avenue to the north, and College Avenue to the east.
There are many other buildings that are in the local register of historic resources and several proposed historic districts.
Right now, we have Kearney Mansion and Meux Home portrayed in our museums page but we would like to eventually portray most of the historical buildings.
We will also add pictures of homes in the Porter Tract district in the near future. So sit back, relax, explore our website and let us know what you think!