Singapore Rice Noodles
If you've ever ordered Singapore Rice Noodles at a Chinese restaurant, you'd know that it is
delicious
! The noodle is flavored with
curry powder
and infused with ginger and garlic. This is a great noodle dish and very easy to prepare. It takes about an hour from start to finish. Peeling and deveining the shrimp is time-consuming - it takes about 30mins. If you have the shrimp ready to go, then this dish will only take about 30 mins!
Ingredients for Singapore Rice Noodles
1 (6.75-ounce) package rice noodles/rice sticks (MaiFun)
1/2 cup fat-free, less-sodium chicken broth
3 tablespoons low-sodium soy sauce
1 teaspoon sugar
1/2 teaspoon salt
Cooking spray
1 tablespoon cooking oil, divided
1 large egg, lightly beaten
1 red bell pepper (cut into strips)
1 tablespoon grated peeled fresh ginger
1/4 teaspoon crushed red pepper
3 garlic cloves, minced
8 ounces skinless, boneless chicken breast, thinly sliced
1 tablespoon curry powder (discretionary amt)
1 lb shrimp, peeled and deveined
1lb bag of bean sprouts
1 cup (1-inch) slices green onions (optional)

Cooking Directions
Cook rice noodles according to package directions. Drain.
Season shrimp and chicken with some salt.
Combine broth, soy sauce, sugar, and the 1/2 tsp salt; stir until sugar dissolves.
Heat a large nonstick skillet over medium-high heat.
Add 1 teaspoon oil.
Heat 2 teaspoons oil in pan over medium-high heat.
Add bell pepper strips, ginger, crushed red pepper, and garlic; stir-fry 15 seconds.
Add chicken, and stir-fry 2 minutes.
Add curry and shrimp; stir-fry 2 minutes.
Push the ingredients to the side and Make a hole in the center of the skillet.
Add 1 teaspoon oil.
Add egg, stir-fry 30 seconds or until soft-scrambled, stirring constantly.
Stir-fry the mixture to blend.
Add the bag of bean sprouts (see picture 1) and stir-fry about 3 minutes.
Add rice noodles and broth mixture (see picture 2); cook 1 minute or until thoroughly heated.
Sprinkle with green onions.
Enjoy your Singapore rice noodles! (see picture 3)

NOTES:
When cooking rice noodles, do NOT boil them! (I made this mistake the first time I tried cooking with rice noodles - not good)
Turn your tap to the hottest setting and let the water run till it's as hot as it'll get.
Fill a pot with the hot water, place your rice noodle into the pot, making sure that the hot water completely covers the noodles.
Let it stand for 10 minutes - this is the magic number.
Drain after 10 minutes.
If you're wondering what rice noodles look like, here's what we can get at the local grocery store: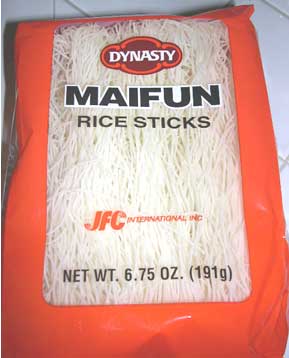 The amount of curry powder is totally up to you. If you like spicy food, you can add more if you like. If you do not like curry powder, either reduce the amount or eliminate completely.
The chicken broth can be replaced with plain water if desired. I often do this and the Singapore Rice Noodles taste just as good.
Picture 1 - Step#13, adding the bean sprouts: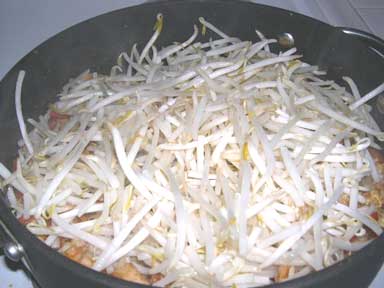 Picture 2 - Step#14, adding the rice noodles and broth: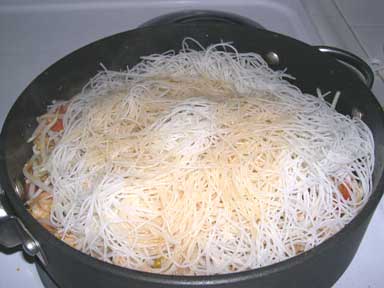 Picture 3 - Ready to eat!: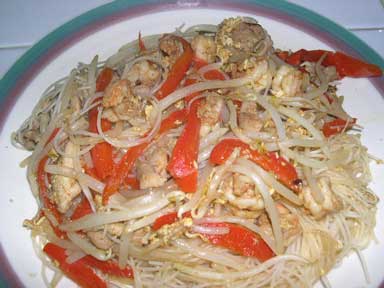 Back to Fresno Chinese Restaurants