Reviews of Fresno Chinese Restaurants
We've eaten at many Fresno Chinese Restaurants and like many people, we have our favorite restaurants and favorite dishes at each restaurant. Whether your favorite Chinese dish is potsticker, hot and sour soup, kung pao chicken, mongolian beef, walnut prawns or chow mein, you will find them all in these restaurants!
Share your restaurant experience with our readers by submitting a restaurant review!
Here are the Fresno Chinese restaurant reviews:
Loy-Loy's
6497 N Blackstone Ave, Fresno CA 93710
559.438.1688
Location Tip: On Blackstone Ave, North of Sierra.
Virginia Gaugush from Fresno CA, submitted June 11, 2005: Best Chinese buffet in Fresno! Large variety of delicious entrees. Consistantly better than average. Quiet atmosphere with soft CD music, linen table cloths. Excellent friendly service. Not expensive at all!
Joy Luck Fine Chinese Cuisine
7899 N. Blackstone Ave, Fresno CA 93720
Location tip: South-west corner of Blackstone and Nees in side the Villaggio Shopping Center (Across from River Park Shopping Center); the restaurant is very close to Normstrom Rack.
Fresnohub Reader Review, submitted April 10, 2005: Absolutely the best dining experience and most elegant interior among all local Chinese restaurants. Good authentic chinese gourmet cooking. Must try their Chicken Salad, fried calamari, walnut shrimps, braised green beans, orange chicken and any sizzling platters. Plenty of food to select from the menu. Another compliment goes to the well response and friendly servers and management for their willingness to 'customize' certain dishes for our friends.
Golden Dynasty
3201 E Shields Ave, Fresno CA 93726
559.229.3817
Location tips: On Shields Ave, just east of First Ave. Restaurant is in shopping complex just east of Target.
Review: This is one of those great restaurant that doesn't look like much from the outside or the inside (inside is clean but not richly decorated - you don't come here for great furniture or decoration!). BUT they serve really delicious and authentic Chinese food. Service has always been friendly and generally very quick. Service might be slower during their busier hours, e.g. weekends after 6pm.
Favorite dishes: Imperial Spare-ribs (a must order, in our opinion...very delicious), Variety seafood with bean cake (tofu) in clay pot (if you don't like liver, ask them to omit it), chicken chow fun with tender greens. Total bill for these 3 dishes plus steamed rice for two come up to less than $25! And we always have leftovers to take home for lunch the next day. Sometimes they have these sesame balls with red bean or lotus seed paste in them and those are very yummy! This is one of our favorite Fresno Chinese restaurants.
Imperial Garden
6640 N Blackstone Ave, Fresno CA 93710
559.435.4406
Location tips: On Blackstone Ave, between Sierra and Herndon Ave. This Fresno Chinese Restaurant is in the same complex as Georges Bar and Grill. If you're heading north on Blackstone from Sierra, the complex is on your right hand side.
Review: Best place to get Dim Sum in Fresno. This is one of the few Fresno Chinese restaurants that serve Dim Sum and it is served all day here so you can order some even if you go for dinner. Barbeque pork buns, shrimp dumplings, pot stickers - they are all delicious. Their chow fun and Singapore rice noodles are very good too.
If you'd like to make the Singapore noodles yourself, here is a great Singapore Rice Noodles recipe.
This is another of our favorite Fresno Chinese restaurants. Ordering tip: If you go for dinner and would like to order Dim sum, just let the server know. They will give you a dim sum menu with pictures and an order card.
Problem is, the names on the picture menu don't always match up with the order card. Solution - It's easier to point to what you want on the picture menu and let the server fill out the order card.
Sing Tao
3778 W Shields Ave, Fresno CA 93722
559.275.3888
Location tip: Restaurant is located in the shopping complex at the Northeast corner of Shields and Brawley Ave.
Review: This is a great little restaurant west of Highway 99. We love the Orange chicken and beef with asparagus. Take-out for those 2 items and steam rice comes to about $15!
D Hou
6015 N Palm Ave, Fresno CA 93704
559.261.2435
Location: Restaurant is located on the Northwest corner of Bullard and Palm Ave.
Review: Good and rather inexpensive Fresno Chinese restaurant. Attentive staff that is eager to help. If you don't know what to order or can't make up your mind, just ask your server and I am sure they will give you plenty of ideas.
Dai Bai Dang
7736 N Blackstone Ave, Fresno CA 93720
559.448.8894
Location: Another restaurant located in the RiverPark shopping center, close to the Edwards movie theatre and next to Fuzio.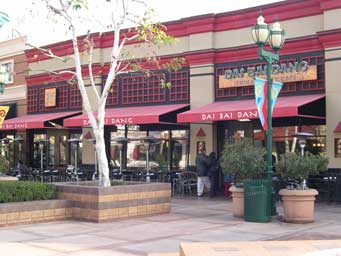 Fresnohub Reader Review, submitted Dec 17, 2005: This isn't chinese cuisine... ahhh, fresno... The food is lackluster for the price. I got the kung pao chicken and it isn't as good as the other reviewer had stated. The kung pao chicken at panda express is probably up to par.
I'm very sad at the state of dining in fresno. There is a nice "real" chinese food resturant called "hunan" on ceder and herndon next to longs that does chinese food justice in fresno. No more eating at places that just have good location.
Fresnohub Review: This is not a pure Chinese restaurant, more like an Asian Fusion restaurant. Some dishes are really good like the Kung Pao chicken and others like the Pad Thai were disappointing. Nevertheless, Dai Bai Dang is very popular with the lunch crowd and is usually pretty busy during both lunch and dinner. The atmosphere is very lively and can be quite loud. Patio seating is available.
Chinn's Garden
8048 N Cedar Ave, Fresno CA 93720
559.323.9195
Location tip: This Fresno Chinese restaurant is located in the shopping complex at the Northeast corner of Nees and Cedar Ave.
Review: The food was great when we went with a friend who spoke Cantonese and who did all the ordering. However, when we went the next time without our friend, both dishes ended up tasting quite similar and tasted just like sweet soya sauce. We have not been back since that experience.
Shanghai Chinese Cuisine
4011 N Blackstone Ave, Fresno CA 93726
559.221.0227
Location tip: Restaurant is on Blackstone just south of Ashlan. If you're heading south on Blackstone from Ashlan, the restaurant is on your right hand side in the same complex as Gold's Gym.
Review: One of the more popular local Fresno Chinese restaurants. Best known for their chicken salad. House specialties include their Orange Chicken and Garlic Shrimp Delight. Decent food but not our favorite.
Beijing Gourmet
5104 N West Ave, Fresno CA 93711
559.261.1658
Location tip: Restaurant is located on N West Ave, just north of Shaw Ave. If you're heading north on West from Shaw Ave, the restaurant will be on your right hand side.
Review: We went to this Fresno Chinese restaurant after seeing a TV commercial (the hunt for good food never ends!). While the food is not bad (the server recommended their popular Walnut Prawns), it is not our favorite either.
Panda Express
3698 W Shaw Ave, Fresno CA 93711
559.277.8828
Location tip: Restaurant is located on Shaw, just east of Brawley.
Review: This is a Chinese fast food chain. There are several all over town. We actually like their Mandarin chicken and chow mein a lot. They seem to have their system down and the food tastes reliably good in all locations.