Fresno Hawaiian Restaurant - Aloha!
This Fresno Hawaiian restaurant opened its doors not too long ago. If you're in Hawaii, you can sample a wide variety of Hawaiian food at a
Hawaiian Luau
. Yoou'll be treated to great food and entertainment at a Hawaiian Luau. Share your restaurant experience with our readers by
submitting a restaurant review
!
Here is our restaurant review: L&L Hawaiian Barbeque 3314 W Shaw Ave 559.277.9888 Location: This Fresno Hawaiian restaurant is located at the NW corner of Shaw and Feland. It is in the same complex as Home Depot.
Review (Feb05): If you've been to Hawaii, you might have seen these little roadside "shacks" that sell lunch plates. After a morning of snorkeling, we'd be heading back to our hotel and if we see one of these roadside stalls, you can bet that we'd pull over and get ourselves some lunch!
There are generally some good options on the menu - kalua pork, seafood, chicken, etc. And the lunch plates come with a scoop of rice and a scoop of macaroni salad. Kalua pork, spam and eggs and macaroni salad are all part of the Hawaiian cuisine.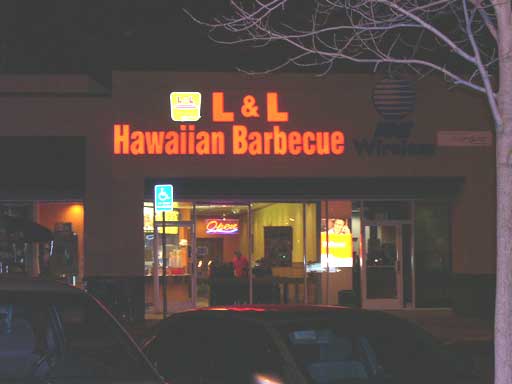 This is exactly what this Fresno Hawaiian restaurant - L&L Hawaiian Barbeque offers: Lunch plate or "plate lunch" as they call it. What's on the menu reflects the blend of cultures and cuisine in Hawaii.
There is shrimp curry, chicken katsu, Hawaiian BBQ chicken, kalua pork, the favorite "staple in Hawaii - Spam" and more!
On this visit we ordered the BBQ mix plate (come with the BBQ beef, short ribs and chicken) and the Kalua Pork with cabbage (kalua pork is like pulled pork and a must try when you're in Hawaii).
Since we ordered the regular-sized plate, they came with 2 scoops of rice and 1 scoop of macaroni salad. The orders came in Styrofoam boxes perfect for take-out or leftovers.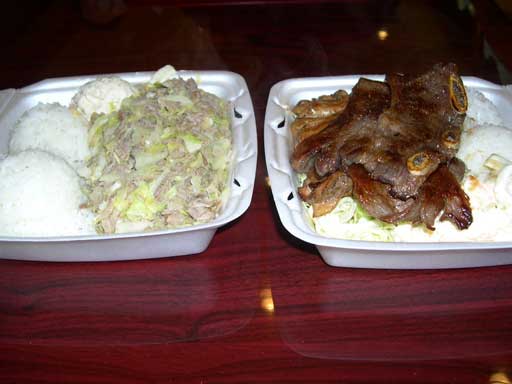 The BBQ was really delicious. The meat was tender and very flavorful. They have their special L&L Hawaiian barbeque sauce. The Kalua pork was very good too, though I would have preferred the cabbage to be on the side - just a personal preference.
If you like, follow this Kalua Pork recipe and make it yourself!
The portions were large and we had enough left for lunch the following day. The regular plates are approximately $6.29-$7.49 while the mini plates (1 scoop of rice and 1 scoop of macaroni salad) are $4.29 to $.79.
There are many other items on the menu I would love to try, some of which may be for the more "adventurous type" - chicken katsu (another of their bestsellers), loco moco (hamburger over rice covered with brown gravy and topped with egg!), grilled spam with saimin noodles and their spam and egg sandwich.
We'd have to make several more trips back to this Fresno hawaiian restaurant before we can try everything on the menu.
Other observations - We love the fact that they had island music playing at the restaurant.
Just hearing the music puts us back in Hawaii where the mountains are green and lush, the ocean is an aquarium and the mood is, oh so laid-back.
We love Hawaii... The Mahalo (thank-you) on the trash receptacle was a nice touch as well.
Can we put in a request for Hawaiian shave ice?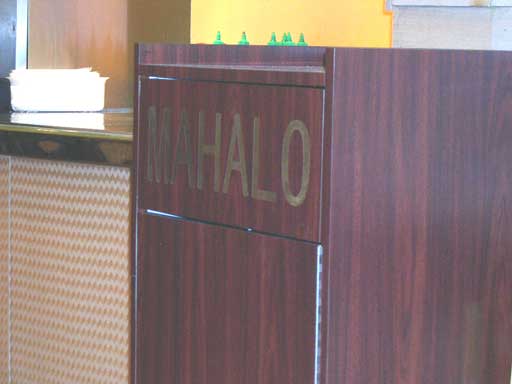 The service was excellent as well. We were attended to the minute we walked in and the staff was very eager to offer recommendations, if needed.
This Fresno Hawaiian restaurant is a great restaurant that brings a little bit of Hawaii to Fresno.
It is actually a restaurant chain that can be found in Hawaii, California, Nevada, Arizona, Washington and Colorado.