Fresno Mediterranean Restaurant Review
Our Favorite Fresno Mediterranean Restaurant is
Aladdin Shish Kebab
. They serve delicious and inexpensive pita sandwiches also known as gyro or shawerma.
Gyros (pronounce "yee-rohs"!) originated from Greece. An authentic Greek gyro is made with meat cut off from a big rotating cylinder of well-seasoned lamb or beef.
Shawerma is from the Middle East and is similar to the gyro - it is also a pita sandwich. The shawerma is made with marinated pieces of meat which have been pressed, stacked onto a rotisserie and cooked slowly.
The cooked meat is then thinly sliced off and made into a sandwich.
Share your restaurant experience with our readers by submitting a restaurant review!
Here are the reviews:
City Kebob
7735 N Blackstone Ave, #106, Fresno CA 93720
559.435.0919
Location: Located in Universal Park (at the Riverpark Shopping area) at the NW corner of Blackstone and El Paso. In the same complex as Lowe's.
Get a $25 gift certificate to City Kebob for $10!
Review April 2005: This is official a Middle Eastern restaurant but we've placed it here because it serves similar types of food. Their menu consists of kebob plates, kebob on skewer, shawerma, pita wrappers and salads. The prices are very reasonable and includes sales tax! Shawerma and pita wrappers range from $3.75 to $4.50.
The shawerma is really good though the Tahini sauce seems a bit on the sour side. They have chicken and beef shawerma but not lamb.
They also have several types of phyllo dough based desserts such as baklava. We've had baklava many times before so we didn't go for that. We were, however, intrigued by 2 other desserts on display - one called Burma and the other Ballorieh.
Interestingly enough, they are both "variations" of the baklava, with ingredients such as phyllo dough and pistachio nuts. The phyllo dough is shredded to make both those desserts.
Ballorieh has a hint of rose water and is soft. Burma is deep fried to golden brown and is crunchier.
If you're wondering what they look like, here is a picture of Ballorieh (Left) and Burma (Right):
All in all, we had a great experience at City Kebob so do check it out!
Aladdin Shish Kebab
1782 E Barstow Ave, Fresno Ca 93710
559.447.8382
Location tip: This great Fresno Mediterranean restaurant find is located in the shopping complex at the Northeast corner of Barstow and Cedar Ave.
Review: This is where we go to get our "gyro fix". You can either get the shawerma sandwich or the shawerma plate. Plate is $9.25 and comes with hummus, salad, rice, meat and pita bread. The shawerma sandwich is cheap (< $5!) and delicious.
There are other great choices on the menu but unfortunately, we can't tear ourselves away from ordering the gyro. The Fresno Mediterranean restaurant is small, unpretentious and close to Fresno State.
The Broilers
7744 N Blackstone Ave, Fresno CA 93720
559.447.9921
Location tip: This Fresno Mediterranean Restaurant is located in the River Park complex, next to Fuzio. The restaurant faces the movie theatre.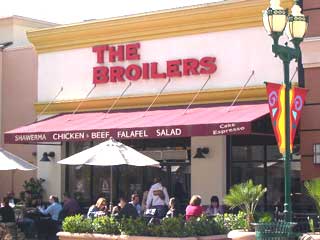 Our Review: This is another good place to get a gyro or shawerma. It is a convenient place to get a bite before or after the movies.
Fresnohub Reader Review, submitted 18 August 2005: A new Broilers has opened at the SE corner of Herndon and Palm. Good gyros and falafel plates, well done tahini sauce and humus. The pickeled turnip must be an aquired taste.