Fresno Korean Restaurant Review
The only Fresno Korean Restaurant we know of is Samos Kitchen. The barbeque pork or beef is very yummy, almost addictive.
Share your restaurant experience with our readers by submitting a restaurant review!
Here is our review:
Samos Kitchen
345 E Shaw Ave, Fresno Ca 93710
559.224.4229
Location tip: This Fresno Korean Restaurant is located in the Mission Village shopping complex at the South-West corner of Shaw and Fresno Avenue.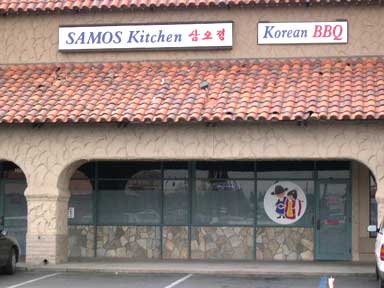 Review: Craving some good, Korean barbeque? Crave no more, just go to Samos and order their spicy barbecue pork or beef. If you would like something different, try their Bi Bim Bap or Dol Sot Bi Bim Bap.
Bi Bim Bap is a bowl of rice with 4 to 5 different kinds of cooked vegetables (shredded carrots, zucchini, spinach, bean sprouts) and is topped with beef slices and a fried egg (sunny side up).
The regular Bi Bim Bap comes in a regular bowl and the Dol Sot comes in a very HOT stone bowl. This dish is served with hot sauce on the side.
Served with the meal are four to five Korean side dishes e.g. kimchi, spinach, bean sprouts, potatoes, egg omelet, pickled radish, etc.
The food here is good but service can be slow, especially since sometimes there seems to be only one waitress working there.