Reviews of Fresno Japanese Restaurants
We didn't realize that we've been to this many Fresno Japanese restaurants until we started compiling this list. Miso soup, Sushi, sushi rolls, teriyaki and sukiyaki are all part of the Japanese cuisine. There are obviously plenty of restaurants to choose from. Whether you feel like having some traditional teriyaki fare or sushi or sukiyaki, you won't have any trouble finding it in Fresno.
Share your restaurant experience with our readers by submitting a restaurant review!
Here are reviews for Fresno Japanese Restaurants:
Tsing Tao
711 W. Shaw
Clovis, CA
Location: At Willow/Shaw next to Japanese Kitchen
Fresnohub Reader Review, submitted 23 August 2005: This is a small family owned restaurant that is wonderful! Their house speciality is the Szechuan Crispy Beef and at the first taste you will know why! Very flavorful and different than you will find anywhere else. They also make egg rolls that are from heaven! Very friendly staff that is eager to please and make sure you have a great experience. The prices are very reasonable and you get alot of food for the money!
Sakanaya Japanese Restaurant
9447 N Fort Washington #116, Fresno CA 93720
559.433.6607
Location: This Fresno Japanese Restaurant is located at the NE corner of Friant and Ft Washington. The complex is across the street from Woodward Park.
Review: This restaurant is nicely furnished, from light colored furniture to bamboos and water fountain. You can choose to sit at the sushi bar, dine at the teppanyaki tables or just regular dining. They have an extensive menu ranging from appetizers to sushi, noodles, salad, bento box combination, etc.
Prices for items on the Sakanaya Teppanyaki dinner menu maxed out at $38.95 for their Seafood Combination with lobster, shrimp and scallops.
Their dinner entrees are more affordable ranging from $13.95 to $16.95. They serve up the usual suspects such as chicken, beef, salmon and filet mignon teriyaki; tempura, chicken katsu and saba shioyaki. Dinner entrees come with soup, salad and rice.
They also have a "Dinner Deluxe Combination" for $18.95 which was pretty reasonable considering it came with soup, salad, rice, tempura, chicken wings, one of the dinner entrees and one more item from their list of 9 (4pcs sushi, 8pcs california roll, 2 egg rolls, 8pcs spicy tuna, etc.). It was enough food to feed 2 people really.
The food was good and comparable to the other Japanese restaurants in town. Service could be improved, however. It did not seem that the servers knew who were responsible for what.
While we did not have the teppanyaki, we sat close enough to watch the "action", which unfortunately was quite lacking. The chefs were probably new and not skilled at this. Teppanyaki is supposed to be entertaining - that's what you pay for!
What we saw were newbie chefs trying to get their act down, hardly wowing their diners - performance was like a 3 out of 10.
Also note that at Sakanaya, they do not provide free refills for soft drinks - they are $1.00 each!
Oyama Sushi
7675 N Blackstone Ave, Suite 114, Fresno CA 93720
559.432.1888
Location tip: This Fresno Japanese restaurant is located in the Universal Park shopping complex, at the NW corner of Blackstone and El Paso.
Review (April 2005): You can either dine at a regular table or the sushi bar here. Decor is simple but comfortable. While there are Japanese dolls on the wall, the TVs set on ESPN gave this restaurant a sports bar-like feel.
They do have an extensive menu which includes noodles, entrees, nigiri and combination plates. If you like sushi roll, you'll be happy to know that they do have many, many sushi rolls to choose from, even an Oyama Roll which consists of spicy eel, shrimp, smoke salmon, avocado and cucumber.
Prices seem to be on the higher side with dinner entrees ranging from $8.95 (vegetable sukiyaki and Unagi Fried Rice) to $16.95 (Grilled Chilean Sea Bass). Chicken Teriyaki is $10.50. Dinner entrees are served with Miso soup and steamed rice.
Combination dinner entrees range from $14.50 to $16.50 and are served with miso soup, salad and steamed rice.
We had our usual sushi "fix" - hamachi, mackerel, tuna, salmon, spicy tuna roll - and they were all comparable to what we've had at the other restaurants. We also tried their Unagi Don which was good too.
If you don't like to wait, you might want to come here before the dinner rush hour, especially during the weekends.
Sano's Sushi
7375 N Palm Bluffs Ave, Fresno CA 93711
559.432.2926 Location tips: This Fresno Japanese Restaurant is located North of Herndon Ave, West of Palm Ave. If you are driving north on Palm Ave from Herndon, make a left onto Pinedale and you can't miss it.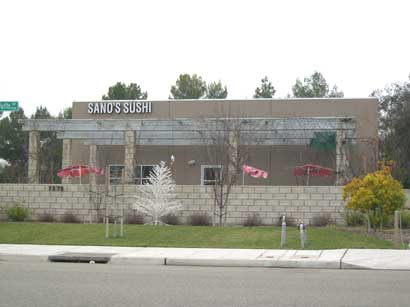 Review: They serve a complimentary plate of edoname the minute you sit down so if you are starving, you'll have something to munch on immediately. Great sushi - Saba (mackerel), hamachi (yellowtail), spicy tuna roll, etc. The green mussels are really good - they are baked with some sort of marinara sauce - Oishii (delicious)!
Sano's sushi has an extensive menu which includes appetizers, salads, sushi, sashimi, special sushi rolls, entrees, combination dinners and boat dinners. But those are regular items that you can get at most Japanese restaurants. What we love about Sano's sushi is that it offers several Japanese specialty dishes such as Shabu shabu, Sukiyaki, Yosenabe, Nabeyaki-Udon and Kamameshi. We must admit that before Sano's, we've only heard of Shabu Shabu and Sukiyaki.
After several trips to Sano's, we've tried 3 out of 5 of those specialty dinners. I've had Sukiyaki at many restaurants but many were disappointing. Not Sano's.
The Sukiyaki here is excellent. In my opinion, it's all in the broth and at Sano's, the broth is very flavorful, not overly salty or sweet. If you've never had Sukiyaki before, it is a very popular one-pot meal in Japan. Thinly sliced beef is simmered in a skillet or pan in the sukiyaki sauce with leeks, onions, tofu, mushroom and noodles.
The traditional way is to dip the cooked food into beaten raw egg before each bite (you can omit this if you prefer). Sukiyaki is a great way to warm you up on those cold, winter nights.
Yosenabe is another one pot dish with different kinds of seafood and vegetables. For us, this dish was bland and we did not enjoy it as much.
Kamameshi came with a plate of tempura, a special small pot with rice cooked with chicken and other ingredients (looks like fried rice) and a bowl of udon with fish cake (yep, it's quite a bit of food, all good nevertheless). Kamameshi is a popular dish in Japan. We had this at Sano's in Jan 05.
By the way, the teriyaki chicken here is very good as well. Here is a sampling of Sano's Sushi Menu.
Depending on how many dishes you order, you could easily spend anywhere between $20-50 for two people. This is one of our favorite Fresno Japanese Restaurants.
Yoshino's River Park
7776 N Blackstone Ave (N/Alluvial), Fresno CA 93720
559.432.4244 Location tips: Restaurant is in the River Park complex, close to the Edwards Fresno Stadium 22 movie theatre.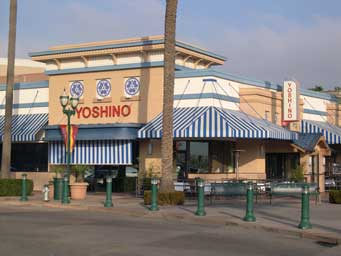 Review: Yoshino's is one of the few Fresno Japanese restaurants that we are aware of, that have the sushi boats floating on the "sushi canal". The advantage of sitting at the sushi bar is there is no waiting for your order. Just watch what is "floating" by in front of you and pick up what you want.
The disadvantage of Yoshino's sushi bar is that they pack you in pretty tightly. As such, we prefer to sit out on the patio and order the sushi instead, especially in the summer.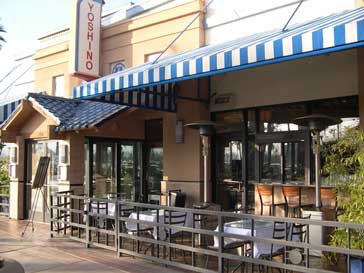 Nevertheless, Yoshino's is a convenient place to go, especially after watching a movie. They serve all the traditional sushi fare as well as not-so-traditional Japanese food e.g. fried calamari and sushi rolls with concoction of cream cheese and seafood.
There is also this fabulous dessert with strawberries and custard - not sure if this is seasonal or always on their menu. When in doubt, just ask! Another of our favorite Fresno Japanese Restaurants.
Kam Pai Japanese Restaurant
840 Herndon Ave, Clovis CA 93611
559.322.6899
Location tip: Restaurant is located in the shopping complex at the SE corner of Herndon and Clovis.
Review: Our favorite item here is the Lovers' Boat which serves 2 people. It comes with soup, salad, teriyaki chicken, sesame chicken and California roll. It costs about $20. This is one of our favorite Fresno Japanese Restaurants.
Miyako Japanese Restaurant
132 W Nees Ave, Fresno CA 93711
559.431.8121
Location tip: This Fresno Japanese Restaurant is located in the shopping complex at the NW corner of Nees and Blackstone Ave.
Review: We've been to this restaurant many times. It serves simple yet delicious chicken and beef teriyaki. Entrees come with miso soup and salad. Menu is somewhat limited. The only negative about this place is that the service is sometimes slow because there is only one server. This is in our Favorite Fresno Japanese restaurants list for simple dinners.
Edo-Ya
3050 W Shaw Ave, Fresno CA 93711
559.275.7535
Location tip: This Fresno Japanese Restaurant is located in the shopping complex at the Northwest corner of Shaw and Marks Ave.
Review: This Fresno Japanese restaurant is popular for its Teppanyaki, which is a lot of fun when you have a group of friends with you. The food is good but the prices seem to be a bit higher than the other Fresno Japanese restaurants. Go for its Teppanyaki.
Sushi 'N' Pop
1788 E Barstow Ave, Fresno CA 93710
559.438.1690
Location tip: This non-traditional sushi restaurant is located in the shopping complex at the NW corner of Barstow and Cedar Ave.
Review: If you're feeling adventurous with sushi, come here and try their many, many creations of sushi rolls. There's probably one to satisfy every taste bud.
I Love Sushi
465 W Shaw Ave, Clovis CA 93612
559.297.1117
Location tip: Restaurant is located on Shaw, between Minnewawa and Clovis Ave. If you're heading east on Shaw from Minnewawa, restaurant is on your left hand side.
Fresnohub Reader Review, submitted 23 August 2005: Excellent sushi here! Especially the sashimi. Very fresh and delicate. The smoked salmon nigiri is a must at every visit. The BBQ White Tuna is a lightly seared tuna in a special house sauce that is to die for! They have excellent cooked meals as well. The Teriyaki Beef is tender and perfectly cooked. We have been there probably a good 50 times since they have opened and absolutely love it! Ask the sushi chefs, Maki or Sam to make you something special. You will be amazed at what they come up with. Owner, Jimmy, is very personable and full of information if you have never eaten sushi before. Great place to learn! Prices are very reasonable and kid friendly too!
FresnoHub Team Review: Restaurant serves decent Japanese food and sushi. They also have many of their own sushi rolls creation.
Oka Japanese Restaurant
2040 W Bullard Ave, Fresno CA 93711
559.432.1475
Location tip: This Fresno Japanese Restaurant is located in the shopping complex at the NW corner of Bullard and West Ave.
Review: This is a small restaurant. We went on a busy evening and the service left much to be desired. We waited and waited for at least 20 mins and nobody came with the salad or miso soup. And nobody came to tell us why. The food eventually came, of course, and was not exceptional. Since there are plenty of Fresno Japanese restaurants to choose from, we have chosen not to return to this one.
Teriyaki Don
6731 N Cedar Ave, Fresno CA 93720
559.439.6759
Location tip: Restaurant is located in the shopping complex at the Southwest corner of Herndon and Cedar Ave.
Review: This Fresno Japanese restaurant is somewhat of a fast food Japanese place or it feels that way. You can get gyoza, tempura and Teriyaki bowls here. Not a fancy place but good place to get Japanese food when you are in a hurry.