Fresno El Salvadorian restaurant
Recently there was an article in the Fresno Bee regarding a Fresno El Salvadorian restaurant and
pupusas
. I was
intrigued
. I've never been to El Salvador and never tasted pupusas before.
So it was obvious that we simply had to go and try it!
We invite YOU to share your own personal restaurant experience by submitting a restaurant review.
Here is our review:
Rincon Salvaldoreño
302 N Fresno St, Fresno CA 93701
559.442.1299
Location tip: This Fresno El Salvadorian restaurant is located at the NE corner of Fresno St and McKenzie. There is parking behind the restaurant. The restaurant is closed on Tuesdays.
Review: So, off we went to the Fresno El Salvadorian restaurant located in downtown Fresno, Rincon Salvaldoreño, that serves these pupusas. It's at the NE corner of Fresno St and McKenzie. The outside is not much to look at. That does not stop us. We went inside through the kitchen into the dining room.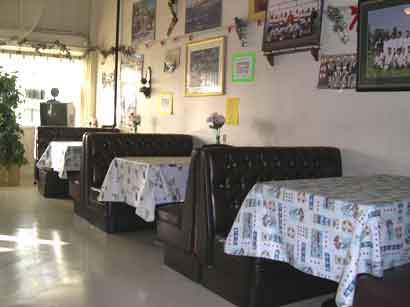 The dining room was very neat and cleanwith booths on both ends and tables in the center. Posters of El Salvador are on the walls, including a "hammock" with the words "El Salvador C.A" on it. If you're wondering, as I did, C.A. probably stands for Central America which is where the country of El Salvador is located.
Scanning through the menu, we quickly ordered the Pupusa plate (which was under the Breakfast category) which came with 2 pupusas, plaintain, beans, sour cream and a side dish salad that was like cole-slaw with black pepper and vinegar. It was only $6. I chose a pupusa with pork filling and the other with pork and cheese.
In case you're wondering what a pupusa looks like, here is a picture of a pupusa: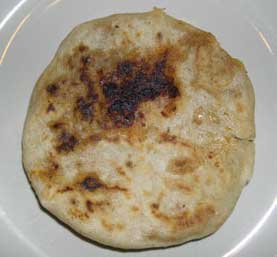 While waiting for the order, we could see the ladies a.k.a pupuserias busy at work in the kitchen making those pupusas. A pupusa is really a fried, thick tortilla filled with either cheese, pork, beans, etc.
There were many other items on the menu we'd like to try such as their Tostadas de ceviche or camaron(shrimp), albondigas (meatball soup)and birria de chivo(lamb in special red sauce). They also have several other seafood items on the menu.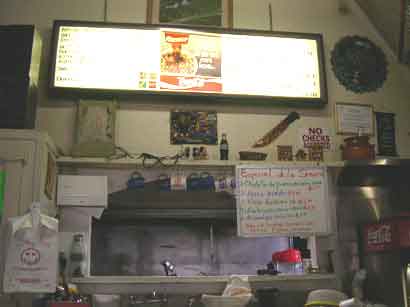 After having the pupusa, I can see why this is considered a national staple for El Salvadorians. It is simple yet delicious, filling, cheap and easy to eateven on the go.
Every country seems to have one of these, maybe more so in the developing countries. (If you'd like to try and make these pupusas yourself, here are a few pupusa recipes!)
A good example is the shrimp tacos at the taco stands in Mexico. Cheap and delicious! We will take these food over the fast food any day... A note about the restaurant's downtown Fresno location - We know that some people might be hesitant to venture into downtown Fresno. We don't let that stop us from trying new things or this Fresno El Salvadorian restaurant.
We felt very comfortable the whole time we were at Rincon Salvaldoreño. From what we could see, the dining area and the kitchen were very clean. It is located very close to the community medical center and there was a lot of activity in that area.
We drove through Fresno street and saw the downtown Fresno trolley (it's a lunch-time trolley between downtown and the Tower District.
The trolley supposedly picks up passengers on M Street near the Fresno County Hall of Records about every 10 minutes).
So, the next time you find yourself heading to a fast food restaurant, why not stop and go to this unique Fresno El Salvadorian restaurant instead?