Dai Bai Dang Restaurant Review
Dai Bai Dang is not really a pure Chinese restaurant but more of an Asian-fusion restaurant.
Please do share your restaurant experience with our readers by submitting a restaurant review
Dai Bai Dang
7736 N Blackstone Ave, Fresno Ca 93720
559.448.8894
Location: Another restaurant located in the RiverPark shopping center, close to the Edwards movie theatre and next to Fuzio.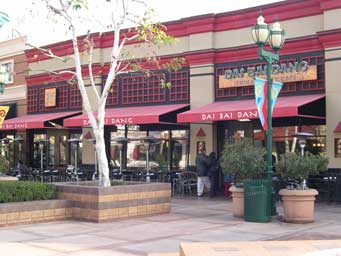 Fresnohub Reader Review, submitted December 17, 2005: This isn't chinese cuisine... ahhh, fresno... The food is lackluster for the price. I got the kung pao chicken and it isn't as good as the other reviewer had stated. The kung pao chicken at panda express is probably up to par.
I'm very sad at the state of dining in fresno. There is a nice "real" chinese food resturant called "hunan" on ceder and herndon next to longs that does chinese food justice in fresno. No more eating at places that just have good location.
Fresnohub Review: This is not a pure Chinese restaurant, more like an Asian Fusion restaurant. Some dishes are really good like the Kung Pao chicken and others like the Pad Thai were disappointing.
Nevertheless, this restaurant is very popular with the lunch crowd and is usually pretty busy during both lunch and dinner. The atmosphere is very lively and can be quite loud.
Patio seating is available.