Fresno fine dining - Campagnia
Campagnia is a region in Italy which the restaurant is named after. Italy is shaped like a "boot" and this region is located on the "shin" of the boot with Naples as its densely populated capital.
Please do share your restaurant experience with our readers by submitting a restaurant review!

Here is a map that shows where that region is: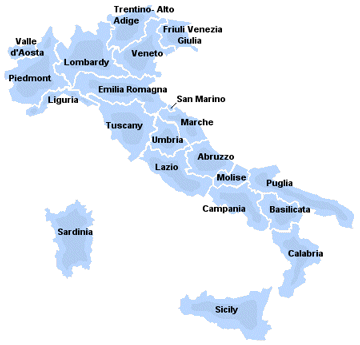 In case you're wondering, Rome is located in the Lazio region and Florence is in Tuscany.
From what I've read, this region in Italy is a great agricultural area, thanks to Mt Vesuvius and the fertile volcanic soil.
Much of the food of restaurant is supposedly inspired by this region though you will find plenty of other Asian and American influenced dishes on the menu as well.
Campagnia
1185 E Champlain Dr, Fresno CA 93720
559.433.3300
Sample Lunch Menu
Sample Dinner Menu
Sample Brunch Menu
Location tip: Restaurant is located in the Washington Square Shopping Center at Champlain and Perrin. Look for the SaveMart complex.
Review: This is a very good restaurant, arguably fine dining at its best in Fresno.
Excellent food and ambience. Extensive wine list. The restaurant has two patio areas and a lively bar area. Make reservations or be prepared to wait! Check out the Campagnia lunch menu and their dinner menu.
Fresnohub Reader Review, submitted Feb 12, 2009 by Chuck from Fresno :
It's always risky when you take an authentic Italian to an American Italian restaurant. My friend travels between the state of Virginia and Italy several times each year. We are also business associates.
Having know the man for 15 years I finally summoned the courage to try it. Campagnia was perfect. In his hilarious articulation of English, my Italian friend was complimentary from appetizer to dessert. "Is very good, no?", "Ah, is very good, yes?", "We remember to come here again."
We even got a bit boisterous after the meal, comfortable, well fed and completely satisfied. Just the way a good old fashioned Italian meal should be.
Update Feb05:
We were recently at Campagnia for its Sunday Champagne Brunch Buffet with several friends and had a fabulous time.
We were initially hesitant to sit in the terrace but found out that the terrace was heated with heat lamps. And those things kept it nice and cozy! As soon as we sat down, the server asked if we would like a complimentary glass of champagne..hey, why not?
There was live music (jazz) playing, two waterfalls and lovely greenery in the terrace, all adding to the dining ambience.
The buffet included assorted rolls, pastries and breads; fruit, pasta, cucumber/spinach and Caesar salad; sausage, bacon, fries; prime rib, turkey breast and salmon. We really liked the caramelized apple French toast and crab salad on a cucumber.
There were also made-to-order omelets. You get to choose from bacon, ham and/or shrimp; swiss, cheddar and/or mozzarella cheese; tomatoes, onions, mushroom and/or bell peppers. The omelet was really good - soft and generously filled.
There were, of course, desserts! We were so full at that point that we only tried 2 of the desserts. The chocolate torte was not impressive - it was hard and not the decadent chocolate dessert I was hoping for. The lemon cake was much better. The cake was sweet, soft and light and contrasted well with the tangy lemon.
This was a really great way to spend a lovely Sunday afternoon with friends. We had a fantastic time at Campagnia and you probably will too.
Here's an example of their Sunday Brunch Buffet Menu.