Fresno fine dining - Cafe Rousseau
Here is the restaurant review:
Cafe Rousseau
548 E Olive Ave, Fresno CA 93728
559.445.1536
Location:
Restaurant is located in the Tower District, on Olive Ave between Palm and Wishon Avenues. Across the street from 609 Grille Restaurant.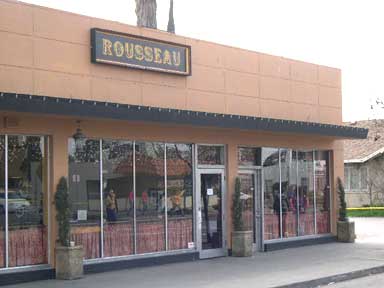 Fresnohub Reader review, submitted on 12/05/2008 by Nance from Fresno:
My daughter, son-in-law and myself decided to have dinner at the Cafe Rousseau on Wednesday, December 3, 2008 as both my daughter and son-in-law had eaten at this establishment prior times with pleasant dinning experiences. However, this particular evening the substance of ALL THREE MEALS were MORE THEN substandard, poorly cooked and did not taste anything like the cuisine ordered.
The pricy affair was so distasteful that the entrees were not eaten. I will say, the French onion soup was returned by the waiter and taken off the price of the bill as was agreed by waiter as well that it was bland and had no taste. Actually, it taste more like cardboard then anything else.
We asked that one entree in particular which was not eaten AT ALL be removed from the price of the dinner of which, IT WAS NOT. I WOULD NOT RECOMMEND THIS ESTABLISHMENT TO ANYONE. THE FOOD IS COSTLY AND THE PALATE CAN NOT TAKE THE TASTE!!!!!
The only saving grace is the waiter, Elijah! What a joy and pure delight he was. Had it not been for this young man the entire evening would have been a bust. Although the wallet did suffer substantially, I am sure I will get over it. I HATE THIS PLACE!!!!!!!!!!!!!!!!!!
Fresnohub Review: We had just an ok dining experience here. In our opinion, food was somewhat mediocre.
Because of their name, we were expecting French cuisine and were somewhat disappointed when we saw their menu. No escargot or duck here! There was Chicken cordon-bleu however.
The restaurant does not have a liquor license but word is that they might get the license once Echo restaurant moves to its new location.
They do allow you to bring your own wine. Cash only. Reservations are recommended.